Becoming a dad: How to support your partner all through pregnancy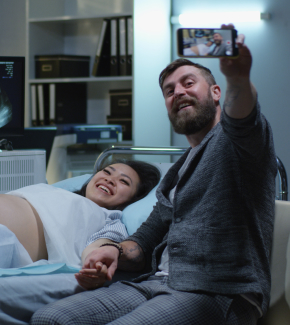 Most people start seeing a pregnancy from the mother's point of view first. We start to review symptoms, talk about each phase of the pregnancy, vitamins and supplements, exercises and diet. Of course the dad-to-be is part of the equation, he doesn't get the spotlight.
But becoming a father is also a rollercoaster of emotions, and getting ready for the journey is crucial. Here we share tips about how to be present and fully support your partner while getting ready to welcome your child. 
Stay informed — you're pregnant too! If you're both rookies, follow her on the path of discovery around vitamins, exercises, the countdown of weeks and all the other important information about the next nine months. (O

ur blog

has a great selection of articles to help!). You can also enrol in childbirth classes with her, download apps to follow the pregnancy journey, attend consultations with doctors and much more. It's important to both for you, for her and your child that you become part of the whole process early on. This will help her feel secure and less anxious, and you can share all the tiny changes she's facing.

Listen, talk and don't be afraid of your feelings:

Pregnancy and parenting are a lot to handle.

You are facing this together, so make it clear to her that you want to be there at all times.

Sometimes she will want to vent to you about her thoughts and feelings. She'll feel insecure and afraid. Don't ever tell her she should stop worrying about things, even if her worries seem illogical. Instead, offer her your views, help and try to find information about whatever is on her mind, to assure her that you're listening. Book some time off work for a relaxing afternoon together.

And most importantly: share your fears and insecurities too. You're a team, and she needs to feel you're as involved as you can be. Things will go smoothly for you both if you're open to talking about your feelings. 

Be present for the special moments:

Try to be around her as much as possible, so you can share all the special moments on this incredible journey. The first kick, the first time she feels the baby moving in her womb, the first scan, the first medical consultation, the gender scan and review — all of these are vital moments that you will both want to remember together. We're aware some clinics in Ireland aren't allowing partners to join pregnancy scans during the pandemic. At

ReproScan

, we believe this is a precious moment for both parents, and we're still allowing one adult to accompany the mom-to-be on

all scans performed in our clinics

. We're following all HSE recommendations while we allow this to happen. One of our happy patients,

The Regular Dad

, has shared his thoughts on his first scan, and we're proud that all our team's efforts have paid off with a rewarding experience.

Be her hero before becoming your kid's hero:

Pregnancy is an emotional time for any mom-to-be. Her hormones are fighting her; she's getting anxious, it's a lot to go through. Get closer and be at her service. Try to help more with household chores, prepare or learn how to prepare her favourite meal someday, join her in exercises (if she's up to it), and think of any way to brighten up her days when she's not feeling the best. Maybe you both share an interest in games, movies or music — you could plan a

special thematic

date, or give her a "day off" from everything by booking her a spa day. Remember to be present, to say how beautiful she is and to pay attention to the smallest changes of her body with appreciative and supportive words. Massages, hugs, and extra time together will always be appreciated.

 
Get ready to share the news when the baby arrives:

You'll probably be in charge of texting, posting on social media, calling or sending that beautiful email to your close friends and family announcing the baby's arrival. Make sure you have your list ready in advance. Talk to your partner and make a must-contact list, so you don't miss anyone. If you're feeling adventurous, you can even put together a message template, so you don't need to think of the right words to say while all you want to do is look at your child in the first minutes of their life. Find out if she wants to share pictures of the labour or if she prefers a short text instead. If you plan ahead, you'll have more time to enjoy the moment!

The famous hospital bag — pack for the three of you!

Everybody talks about the hospital bag for the mom and the baby (or the babies), but have you ever considered that you will be there too? Yes, that's right! You probably won't need the bathrobe, comfy clothes and nursing pads, but both your phone chargers need to be on the list. Toiletries are valid for both of you, as well as going home outfits (mostly for the mom and the baby, but you may need one too). Snacks, a razor, magazines or books for you to read while you're waiting are essential. Think of anything that can bring the mom-to-be some extra comfort (like her own pillow or a new set of towels and of course, chocolate) and add it to the bag. Remember to have this ready several weeks before the due date — babies have ways of surprising us!
Now you've got a few ideas about how to be more present in the pregnancy, why not surprise your partner with a scan to check on how your baby is doing?
Contact us today
if you have any questions, and maybe you can then visit us in one of our five clinics in the Republic and Northern Ireland.