Getting ready to give birth — a guide to your third trimester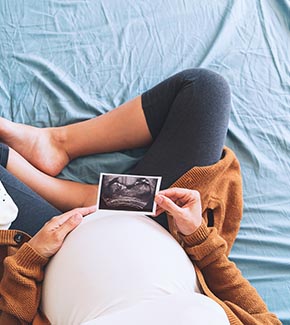 Getting to the third or final trimester of your pregnancy usually brings a mixed bag of emotions, tied up with a yearning to see your baby for the first time, and apprehension about labour — especially if it's your first time. All of these feelings are absolutely normal. 
The third trimester also brings the joys of anticipation, deciding how you want to give birth and what to include in your baby's layette, and lots more. It's a rollercoaster of emotions, but let's enjoy the ride. Are you ready to see what's waiting for you? Let's go! 
More visits to your doctor and midwife, and antenatal classes:

In your third trimester, you'll most likely visit your doctor and midwife more often. The ideal number of visits is one every two weeks from your 28th week of pregnancy, increasing to one visit per week from the 36th week. This is to make sure you're well adapted to new physical changes as your body prepares for the birth.

You should also start thinking about adding

antenatal classes

to your schedule. These classes are useful in helping you to prepare for labour, the birth of your baby and becoming a parent if it's your first time. The sessions will also cover relaxation techniques, the emotions you'll face during the final trimester, developing a relationship with your baby, looking after your relationship with your partner and many other vital topics. Ask your doctor or midwife about antenatal classes and ask if your hospital or maternity service offers the classes free of charge. Also, check for online options in line with COVID guidelines.
Stretch marks and the final body changes:

These will probably be the fastest physical changes you'll experience during the whole pregnancy. In the third trimester, you'll start to notice stretch marks, heartburn and indigestion and varicose veins, among other things. These are all related to your body giving the baby more space to develop, with your uterus expanding and adding pressure to the stomach, and hormonal changes causing side effects. Use creams and oils for extra skin hydration, to reduce the prominence of stretch marks. To tackle indigestion, try eating smaller meals and avoid fried foods. And to reduce the swelling of your veins, avoid standing or sitting for long periods, sleep with your feet up and try compression tights, available in most pharmacies. 
Wait… is it time already? The Braxton Hicks and how to deal with them:

Following the physical changes in the third trimester, most women experience 'Braxton Hicks', or uterine contractions. Different to labour contractions, these are infrequent, irregular and short, and last for less than a minute. These contractions sometimes confuse women in their later days of pregnancy, so to make sure they are only Braxton Hicks contractions, walk around, relax and take deep breaths. If you experience

more prolonged, persistent

contractions, you should contact your GP.  
Emotional and mental changes — you got this!

One universal feeling at this stage of pregnancy is anxiety about labour and embracing parenthood. Luckily, you can count on various support groups to help you deal with these emotions. Whenever you feel anxious, try to talk to your partner, friends and family. Another way to deal with this is to keep your mind occupied — thinking about a name for your baby, organising their new room, preparing your hospital bag, among other things. If you feel prolonged symptoms, talk to your doctor or midwife.
Big decision time — how do you want to give birth, and what are your options?

The final moment is almost here, and you can't wait to have your baby in your arms.

This is the time to make decisions! Depending on your health conditions, yours and your partner's wishes, and other factors, you can choose between a hospital birth, home birth or even a midwifery unit/birth centre. In some cases, you can also state a preference for a vaginal birth or Caesarean — but health conditions and risks to the mom and the baby can influence this decision.

3D/4D scans or 'Just a Look Scan' — take these pictures with you!

If you already know your baby is doing great and possibly know the gender, you can still book some extra scans for a closer look at how she or he is doing.

 

3D or 4D scans

are ideal for this stage of pregnancy, as an addition to your routine hospital scans. These scans are also recommended if you want to try and see baby's features, movements and expressions, and keep images from the womb. When your baby is finally born, these images will be a fun, poignant memory of the expressions and movements of your little bundle of joy before they were even born.

Prep, prep and prep!

There's nothing like "overpreparation" when you are planning to welcome your baby. From buying clothes to getting a feeding system, formula milk, toys, crib, travel system, baby bath, comforters, and loads more. Make sure you buy all this in advance. Given the current virus scare, it is important to sanitise everything you buy as your baby's health and safety is your top priority.

Rest and relax:

Don't forget to catch a break and focus on your overall wellbeing. Special yoga and meditation is recommended for expecting mothers. This helps in the overall development of not only your baby,  but it also helps to relax you when you most need it!
As you get closer to the final days of your third trimester, you may start feeling a certain sense of nostalgia and emotion when you think about all you've gone through — but there will be many bright days ahead!
You might also want to schedule scans to check on your baby and get the full picture about their wellbeing. Feel free to contact our team to schedule an ultrasound or ask any questions about our services — we are always here for you!