Differences between types of pregnancy scans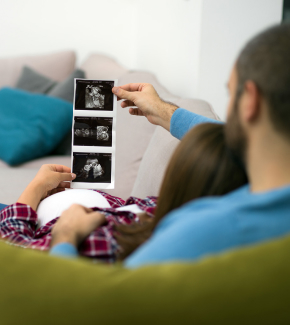 Understanding the differences between types of pregnancy scans
When you first learn you're pregnant, you immediately start to make plans. You will need to think about planning a room for the baby, research vitamins and supplements, exercises and diet tips for pregnants and much, much more. Together with this all, you wonder how the baby will look like, if it's a boy or a girl, when your newborn will join the clan, among others, The best way to tackle this is to have a pregnancy scan. Here is exactly where ReproScan can help. We offer a series of different pregnancy scans, from early-stage pregnancy scans, to gender scans and more. We have a wide range of services, and here we explain what's involved in each type of scan.
Early pregnancy scan: This scan is usually performed in the first three months of pregnancy. In this stage, a pregnancy scan is needed to update the parents on how the pregnancy is progressing. At ReproScan, we offer early pregnancy scans between 8-14 weeks of pregnancy, and both mom and dad-to-be can have the first view of their little bundle of joy. During this scan, you can check the baby's heartbeat, verify if the mom is pregnant with one or more than one kid, and have the first idea of her due date. After the scan, you will receive 4 black and white 2D thermal prints — the first pictures of your baby!
Just a look scan: this is the perfect pregnancy scan for people who are following the pregnancy with a Doctor of choice, but want to just have a quick extra look in their baby. This scan doesn't substitute for your doctor's 2D pregnancy scan at the hospital, and can't provide you with a more in-depth diagnosis, so we recommend you keep your existing consultations. Treat this scan as some "extra time" with your baby.
Gender Scan: some people prefer to keep the baby's gender a surprise until he or she is born, and some people like to find it out as soon as possible. If you're keen to find out, the ideal time to identify the baby's gender is from the 18th to the 24th week of pregnancy. The procedure usually takes from 5 to 15 minutes, and will depend entirely on the baby's position in the womb and whether they have their legs crossed. If you're lucky and your baby wants to show off, you'll leave our clinics with a thousand ideas and projects about the future member of your family.
3D scans: many mothers-to-be prefer to go for 3D pregnancy scans because this scan shows a more realistic view of the baby, with details like facial and corporal expressions, which makes this one of the most desirable scan types. At ReproScan, we forward all pictures from your 3D scan package to your email as soon as the procedure is finished, ready for you to share with all your family and friends. Some ReproScan clients even share 3D scans on Social Media after their babies are born, to compare their small expressions from before and after the birth date.
4D scans: an enhancement of the 3D scan, the 4D option offers videos and motion portraits of the baby, rather than just still images from the 3D scan. These are also electronically transferred to the mum-to-be's email and can be easily accessed by phone as soon as the procedure is finished.
Now that you know the different types of pregnancy scans available at ReproScan, why don't schedule an appointment with us to check how your baby is doing? Contact us today if you have any questions, and maybe you can then visit us in one of our five clinics in the Republic and Northern Ireland.